2020 >
Using Visual Trace Diagnostics to Uncover Hidden Issues
Dr. Johan Kraft - Percepio- Watch Now - Duration: 25:25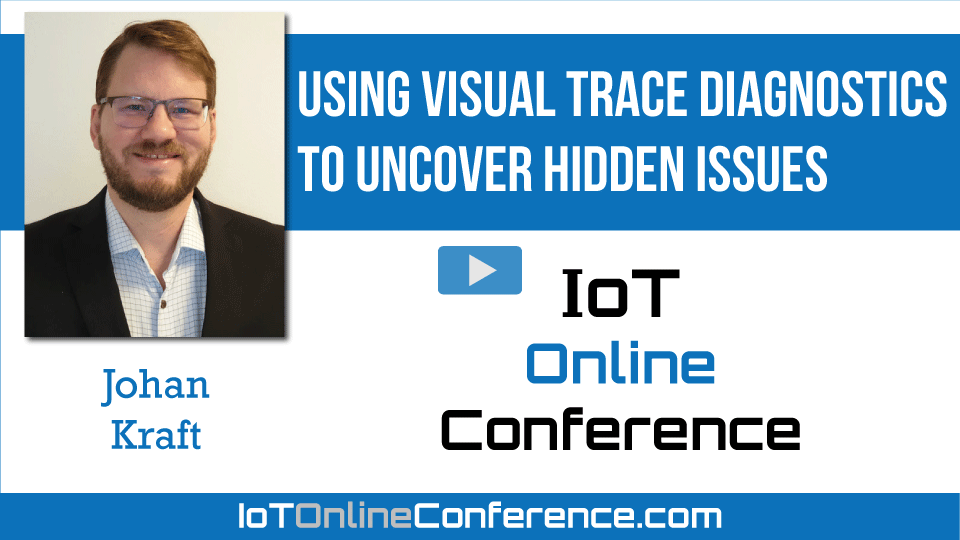 Embedded IoT software is often multi-threaded, event driven, and resource-constrained. This increases the difficulty of IoT software development and calls for better means for debugging, beyond the limited scope of traditional debugging tools.
Software event tracing can improve IoT software development by providing a timeline of the overall software activity. This is very useful information for debugging, profiling and for finding software design flaws. Tracing can be performed entirely in software and remain active over long durations. It can even be used in deployment.
However, tracing produces lots of repetitive data. When debugging, you need to find a small number of anomalies. This can be like searching for needles in a haystack.
The human brain is visual and excels at pattern recognition. Visual trace diagnostics makes it possible to leverage this capability to make the anomalies stand out. This builds on software event tracing, but refines the data into a rich, meaningful model and visual overviews that makes it easy to spot anomalies. The result is quick, intuitive comprehension, even for large traces. This approach is invaluable in system-level debugging and for finding software design flaws.
Join Dr. Johan Kraft as he explores visual trace diagnostics and presents real-world examples of its use in locating and solving hidden software issues.
Doini
Score:
0
| 3 years ago | no reply
Score:
0
| 3 years ago |
1 reply
TBS
Score:
0
| 3 years ago |
1 reply
Score:
0
| 3 years ago | no reply
Score:
0
| 3 years ago | no reply
bdanilovski
Score:
0
| 3 years ago | no reply
Nathan
Score:
0
| 3 years ago | no reply
Score:
0
| 3 years ago | no reply
Carl
Score:
0
| 3 years ago | no reply
Score:
0
| 3 years ago | no reply